Twenty-five years in the making, Seasons on Matheson Brook is a tribute to the natural world, an exploration of self, and a toast to rural life and family.
For thirty years, I've lived on a rural property in northern Nova Scotia that my family calls Ravenhill. My husband Vilis and I raised our sons here, and they grew tall and strong, fed on homegrown veggies, fruit, meat, and eggs. Our boys are now young men with lives and homes of their own, but such was not the case twenty-five years ago when I began keeping a journal that in the fullness of time became my soon-to-be-released book, Seasons on Matheson Brook: A Journey to Self Through Exploring Nature.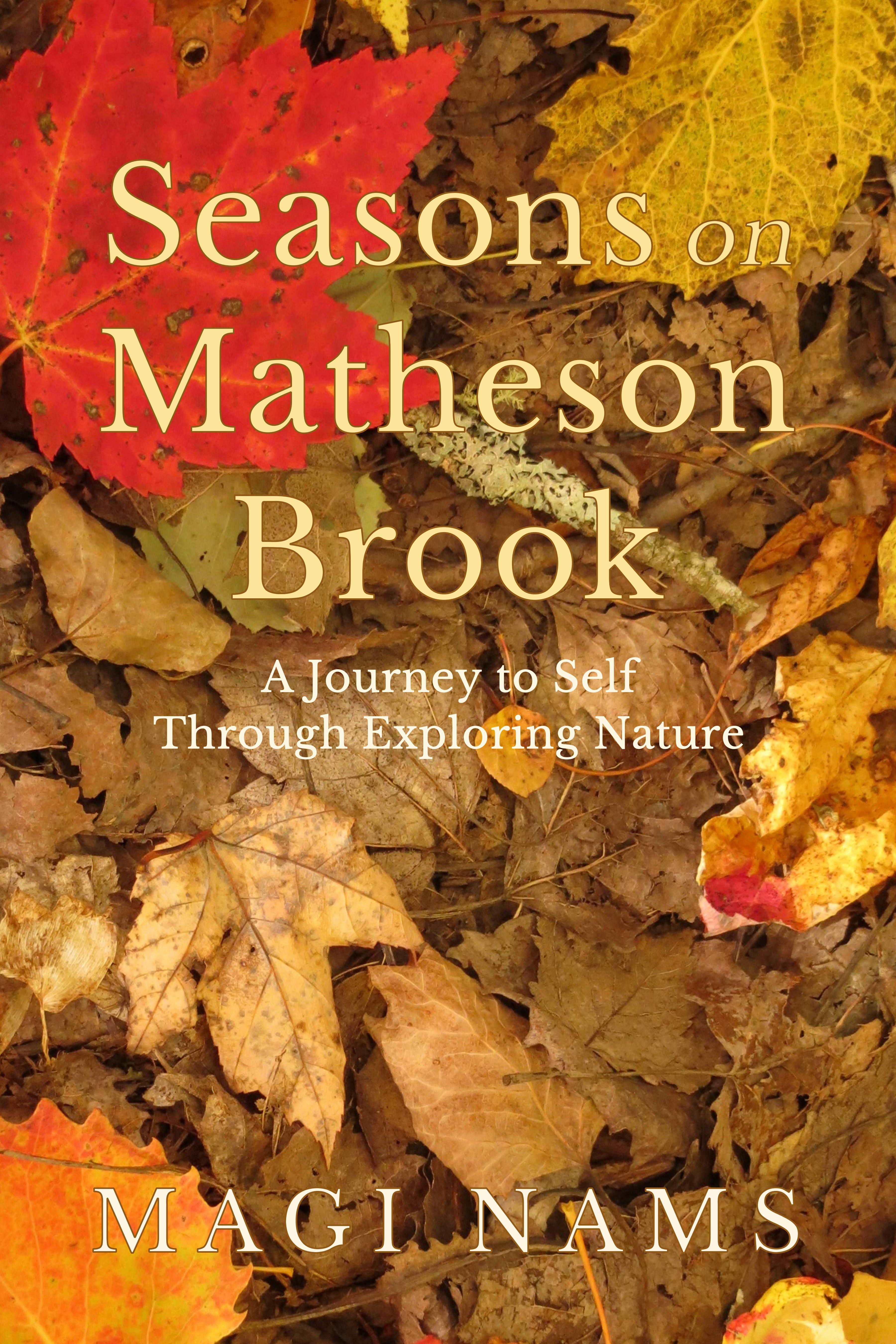 A Time for Everything
The biblical verse Ecclesiastes 3:1, attributed to King Solomon and (juggled a bit) used as the opening lines of the Byrds' international hit from the sixties, "Turn, Turn, Turn," (I'm really aging myself here!) states:
"There is a time for everything,
    and a season for every activity under the heavens"
Undoubtedly, this is true, but the season for a particular activity isn't always clear when we undertake it. Such was the case with Seasons on Matheson Brook, which began like this:
Phase 1: The open door
In the spring of 1997, I was a harried homeschooling mother and part-time writer. My training in zoology and botany seemed a lifetime ago, and I craved time to explore the natural world on my doorstep. Vilis's offer to teach our sons one morning a week opened a door to freedom, and I joyfully hastened through it.
So began a year of intense observation and reflection during which I beheld natural wonders I'd never seen before and revelled in sights I saw every day. My senses opened to nature in a way they never had before, granting me a vivid appreciation for God's gift of this amazing world. Through frustration, joy, and sorrow, I scribbled notes in little notebooks while I walked, and memorized details and images while I ran. Driven to write, I drafted a rough manuscript that chronicled my explorations, reflections, and revelations. Throughout it, I sought to paint vivid images of the world around me, a world filled with intriguing and sometimes shocking natural phenomena. That was Phase 1.
Phase 2: Polishing, but no bites
In Phase 2, I titled my raw, immediate work "Running Tall, Walking Strong," since I'd captured most of my word images while running and walking. I polished it up (so I thought) and submitted proposals to book publishers and literary agents. One publisher held onto my manuscript until the final cut, then rejected it. I received some encouraging words from other publishers, but no bites. Disheartened, I put the manuscript on the back burner and forged ahead on other projects.

Phase 3: Twenty years and a new title
During the following two decades, I periodically returned to the manuscript, tweaked it, and, emulating one of my favourite non-fiction writers, Annie Dillard, gave it a new title, Seeker at Matheson Brook. With time and new insight, I'd realized that the book wasn't about running and walking; rather, it was about searching for my identity in the midst of my hectic life.  I submitted the manuscript to more publishers and a competition, again getting no bites. This was Phase 3.
Phase 4: The Covid deep dive into revision
Then came Phase 4, a pivotal stage in the development of Seasons on Matheson Brook. In January of 2021, a time of anxiety and limited social interaction due to the COVID-19 pandemic, I dusted off my old journal with a view to diving deeper and with greater intimacy into how nature had sustained me during my search for self-identity twenty-four years earlier. The book, enriched through the perspective of time and the freedom to spend hours, days, and weeks polishing my prose, became a loving tribute to the natural world, an honest exploration of my place within that world, and a thoughtful celebration of rural life and family.
Phase 5: Trusting my imagery
At the end of that period of introspective writing, I knew I'd done everything I could for the manuscript, so last summer I hired a copyeditor to coach me through the final stages of polishing the manuscript. This was Phase 5, another pivotal stage in bringing my book closer to completion. Through the gentle, constructive comments of my editor, I learned finer points of grammar and punctuation, and that I must trust my imagery to convey its impact without adding explanations. My editor also advised against my book's title, saying it was too close to Annie Dillard's famous Pilgrim at Tinker Creek.
Phase 6: It's a book of seasons
This past winter, in Phase 6, I once again made revisions, trusting my editor's expertise. And I re-read the manuscript, searching for a new title. I came up with a list of possibilities and ran it past my family, Facebook friends, and editor. Only one title survived the survey: Seasons on Matheson Brook, which in retrospect is the best title this book could have. After all, the elaborated journal follows me through the seasons as I explore nature on the banks of Matheson Brook.
Phase 7: Add pen-and-ink illustrations
Phase 7 of Season on Matheson Brook's lengthy journey to publication began two months ago when I had the brainwave to illustrate the book with my pen-and-ink drawings, most drawn during the time I wrote the original journal. The artwork would take the book to a whole new level. I crafted a new book proposal and prepared to send it off to a potential publisher, but something stopped me. While working on the proposal, I'd felt incredibly anxious, to the point where I developed an irritating twitch in my right eyelid. I realized that a traditional publisher might or might not be interested in my artwork, and I had a vision, a dream, for this book. I wanted it to be art, both in word and illustration. So, I trusted my gut, figuring it was up to me to make that dream come true.

Phase 8: Going indie
Phase 8 got under way when I chose to independently publish Seasons on Matheson Brook. The moment I made that decision, my anxiety disappeared, and the annoying twitch soon disappeared, too. But I'd piled a lot of work on my plate: designing and formatting the book interior, designing the cover, writing the back cover blurb, promoting, marketing, and more. I wanted a spring release, since my journal began and ended in spring. With that in mind, I set a release date of April 26, 2022, certain I would have plenty of time to complete all the necessary tasks. 
Phase 9: The time is now
That release date is fast approaching, and as of this morning, the writing and publishing tasks are done. Next Tuesday, Seasons on Matheson Brook will be live in both ebook and paperback formats and available through major online retailers. This book is my journey to self through exploring nature, and it's my love song for the earth, rural life, and family. It seems fitting to introduce it to the world today, on the eve of Earth Day.

So, yes, there is a time for everything, even for long-held visions to be fulfilled. The time for Seasons on Matheson Brook is now.
UPDATE: Paperback now available at  Amazon
Ebook available at  Amazon  Kobo  Apple  Barnes & Noble  Vivlio  Tolino

Click here to read an excerpt.