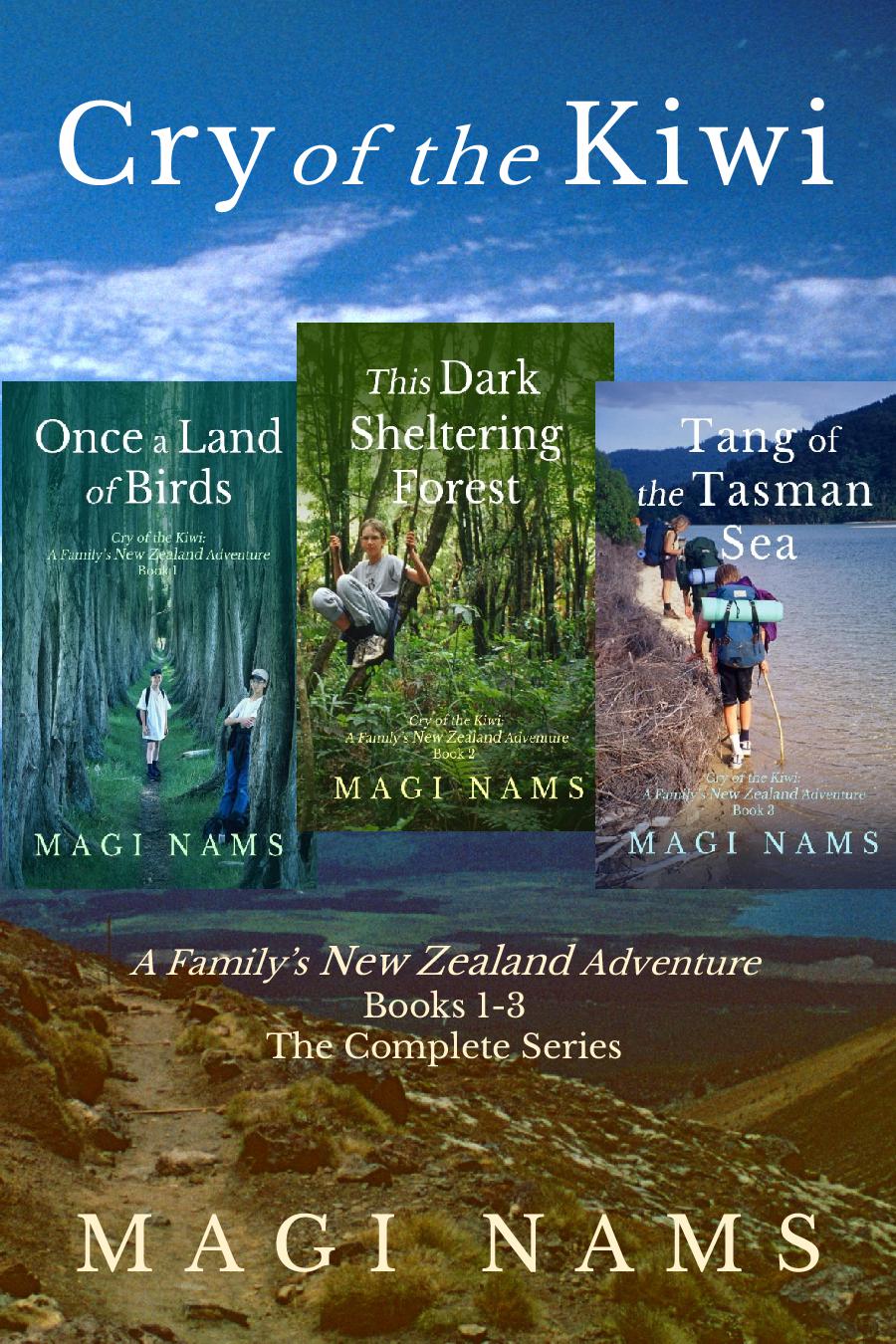 "a delicious taste of life in New Zealand" – Monica, Amazon
Told with grace and style, alive with insight and intriguing facts, Cry of the Kiwi: A Family's New Zealand Adventure captures the joys and challenges, struggles and awakenings experienced by a Canadian family that hits the ground running in New Zealand and finds its feet in a land of volcanoes, giant trees, mammalian pests, and endangered flightless birds.
In 2000 Magi Nams was a harried home schooling mother who yearned for a big travel adventure, a glorious trip somewhere far away where she could walk beneath the canopies of unknown trees and identify exotic birds. And where she and her family could spend months exploring an intriguing foreign culture. Would the dream ever come true? She had one hope… her ecologist husband was a weasel expert, and New Zealand had a lot of weasels to get rid of.
Book 1, Once a Land of Birds: On New Zealand's spectacular South Island, Magi and her family scramble through tangled bush, hike over windswept hills, and dive head and heart into New Zealand life,  history, and ecology. Travel and hiking adventures take them to verdant rainforests in the island's northwest, over ancient volcanoes on the east coast, and into the majestic mountain country of the Southern Alps. Throughout it all, Magi and her husband and two sons develop a growing understanding of and affection for New Zealand's maverick persona and its beleaguered, long-isolated native flora and fauna.
What readers say about Once a Land of Birds:
"In her book Once a Land of Birds, Magi Nams serves up a delicious taste of life in New Zealand… Well-written, well-researched and well-documented, it's well worth the read." – Monica, Amazon
"An adventure of mind, body and spirit" – Tara, Amazon
"After reading Once A Land Of Birds, I came away with a yearning to visit the beautiful country of New Zealand. Magi's writing has such lyrical quality; I thought her prose could be put to music." – Anonymous, Amazon
"I really enjoyed this book – it really was an immersive experience. The author paints a brilliant picture of the landscape, their experiences and I learned alot about a place I've often fantasized about visiting, which is a bonus. It's non-fiction, and a very pleasant and yet compelling read." – Michelle, Goodreads
Book 2: This Dark Sheltering Forest: Amid downpours and summer heat, Magi and her family ride quads over muddy pitted tracks on North Island's Central Volcanic Plateau as they trap stoats, the subject of her husband's research. Long hours in the outdoors introduce her boys to the challenges of field research, and the entire family to the lush, cluttered beauty of a New Zealand rainforest. During time off she and her family hike over an active volcano, snorkel among electric-blue fishes, spot glow-worms in mysterious caverns, walk among New Zealand's rarest  birds, gaze in awe at some of the largest trees in the world, and explore a gaudy geothermal wonderland. With a gift for observing and story-telling, the author evokes the majesty and mystery of New Zealand's volcanic North Island, the drama and tedium of six weeks of scientific research and travel, and the tensions and joys felt by two parents and two kids bonding more tightly far from home.
Book 3: Tang of the Tasman Sea: Back on South Island, Magi and her family battle home school tensions and adventure inertia before rebounding to backpack the Abel Tasman Coast Track, watch the Aurora Australis from a mountain top, hike to a brooding creek with a history of disaster, follow flashlights deep into caves, and climb over icy bedrock to a look-off in breathtaking glacier country. As their family travel adventure of a lifetime draws to a close, it becomes clear that New Zealand's heart lies as much in its people as in its majestic landscapes and intriguing flora and fauna. With awareness and a rich turn of phrase, the author portrays South Island's natural beauty and reveals how some landscapes her family explores during five final months in New Zealand are landscapes of the heart, and how some trails lead not up mountains but to new peaks within.
Buy the complete Cry of the Kiwi: A Family's New Zealand Adventure series today and revel in an inspiring and heartwarming travel tale set in one of the most beautiful countries on earth!
Buy e-book box set:  Kobo   Apple  Barnes&Noble  Amazon