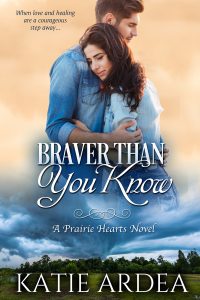 Braver Than You Know
A Prairie Hearts Novel by Katie Ardea
©2019, 355 pages
Leaf Rain Books
ISBN (print) 978-1-9990616-0-9

ISBN (ebook) 978-1-9990616-1-6
"I couldn't put the book down!" —Tom, Amazon
She's hunting her future. He's got her in his sights. Can they overcome their pasts to find love and healing?
Wildlife photographer Kimberley Colter wonders if she'll ever be brave enough to go after dangerous animals again. Part of her died in the Rockies last year when a photo shoot turned into a nightmare. Now she's trying to resurrect her career and move on with her life. But she's hiding something.
Cattle rancher Lincoln Steele has lost a lot, including his marriage and chosen career. His top priority is to help his young son overcome an emotional trauma. During a chance encounter with a gorgeous photographer in the forest, he sees the instant connection between her and his son. And he can't deny that he's attracted to her, too. Trouble is, so is his best friend.
Drought grips Turtle Mountain and emotions soar as Kimberley and Lincoln come face to face with their painful pasts. The fight to overcome their fears and move to a place of healing takes every bit of courage in their hearts.
If you love riveting romance, strong heroines, and irresistible heroes, you'll love this story of facing old fears and finding new love. Braver Than You Know is the first book of Katie Ardea's Prairie Hearts series of contemporary western romances with inspirational elements and a taste of suspense.
What reviewers say about Braver Than You Know:

"For an uplifting and encouraging story that shows how unexpected life can be, pick up a copy of Braver Than You Know. It is undoubtedly one of the most well written debut novels out there!" — R.C. Gibson, Indies Today

"An inspirational tale!" — Sandra's Book Reviews
What readers say about Braver Than You Know:
"Excellent read! I couldn't put the book down!" — Tom, Amazon
"A beautiful story of loss, courage, healing and love! Beautifully written with it descriptions of the Canadian landscape. This story is one you will not want to put down. I can't wait for the next in the series." —Sarah, Goodreads

"A thrilling story overlaid with romance. Well crafted back story really brings the characers to life. Even non romance readers will enjoy the book." — Siena, Goodreads

"Super Read! Characters that you can believe in. The beauty of Nature keeps you reading." —Edward, Goodreads

"I did not want the book to end. I felt that I knew the characters, they were believable and well developed. I love nature and I felt like I was truly on scene during the adventures. A great escape that I recommend; I look forward to future books written by Katie Ardea." —Debbie, Goodreads

Buy Braver Than You Know today and feel your everyday world disappear as you cozy up with a read that inspires you, makes you fall in love with its characters, and takes you to the edge of your seat!
Braver Than You Know by Katie Ardea is available at:
Amazon Apple Kobo Barnes & Noble
For more information and to read an excerpt, visit katieardea.com.